Mother's Day Sale!! 20% Off Everything Plus Free Priority Shipping (USA Only)
27 Found. Showing page 3 of 3 pages.

Mata Ortiz Potter Jose Martinez Cano created this polychrome geometric design pot. The pot is 10" in height by 7" wide.
Item Number: J3523 ... List Price: $1,095.00 Your Price: $876.00

Award-winning Grand Master painter Jimmy Abeita created this oil painting on canvas. Entitled "Mare and Foal," the canvas measures 19 3/4" x 15 1/2". The outside dimensions of the frame are 31" by 27".
Item Number: 42409 ... List Price: $2,700.00 Your Price: $2,160.00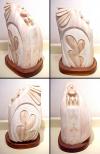 Award-winning Jemez Pueblo artist Victor Vigil created this alabaster "Prayer" sculpture. The sculpture is 17" in height by 8" wide by 9" in depth.
Item Number: 31783 ... List Price: $1,395.00 Your Price: $1,116.00