Free USPS Priority Shipping on Any Jewelry (Continental USA Only)
Julian Lovato

SILVERSMITH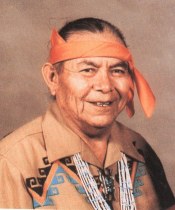 Since 1948, the Southwest has offered the world distinctive and unusual jewelry of Julian Lovato. His work has the individual stamp of a creative craftsman, yet the tradition of the Native American Southwest is evident. Lovato express his own sophisticated modern designs in handmade sterling silver and gold jewelry and objects of art.
Coral and turquoise are the traditional gemstones of the Southwestern Indian, "the most valuable thing to possess, something to treasure, the way people want to have a diamond no matter what price," Lovato explains. He designs each piece of jewelry around the stone, selecting the finest turquoise and coral available.
Lovato's love of turquoise goes back to his childhood: Santo Domingo Pueblo is renown for turquoise bead making and silversmithing. His father and grandfather both worked with turquoise. Upon his father's death, Lovato got a job at age thirteen cutting stones at Maisels in Albuquerque. Later, he spent several years with a similar operation in Kansas City. Then in 1948 he had the great fortune of becoming apprentice to the internationally distinguished Italian silversmith, Frank Patania.
Patania came to Santa Fe in 1924. He brought with his a new sense of design elegance to Southwestern jewelry. During his years at Patinia's Thunderbird Shop in Santa Fe, Lovato was responsible for the silver monogram that became the Thunderbird specialty: contemporary buckles, cufflinks, brooches and rings. Patania and Lovato also made sterling silver pitchers, bowls, teapots and trays.
Whereas most traditional Native American jewelry is flatwork, either stamped or overlay, Lovato has adopted the techniques and design elements learned from Patania into what he calls a raised or dimensional jewelry design. Lovato's bracelets curve not only along it's length, but also softly across the width. The bezels hold the stones elevated from the surface, so that the turquoise or coral stones appear to float above the surface.
The effect of suspension contrasts with the second characteristic of Lovato's style- a deliberate look of weight in the metalwork. Lovato uses substantial sheets of sterling silver and gold, giving an importance to the metal work. However, the exquisite balance and craftsmanship belie the weight of the metal.
Julian Lovato combines tradition and innovation, and the permanence of metal and stone with the elusive grace and beauty of design in works of art which will endure. "I have strong feelings about the things I do. I'd like to leave something behind someday when I am gone. Something that people can remember me by, something that is worthwhile. I'd like somebody to think of me as a silversmith whose work can be treasured. I think my work can speak for itself."