Our Annual Holiday Sale of 20% off Everything. Free USPS Priority Shipping on Any Jewelry (Continental USA Only)


3 Found. Showing page 1 of 1 pages.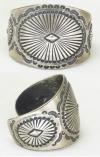 Kenny Braken, Taos Anglo artist, created this Sterling Silver Hand-Stamped Sterling Silver Wide Tapered Bracelet, circa 1990s. Signed Kenny B., the bracelet will fit a 7 1/4" wrist, including an opening of 1 3/8". Beautiful stampwork, representing a cluster, with reposse, the bracelet measures approximately 2 1/8" across and tapers to 3/4".
Item Number: 55866 ... List Price: $300.00 Your Price: $240.00

Unknown Navajo artist created this Sterling Silver Hand-Stamped Silver Dollar Concho Belt with Sterling Silver Buckle. Nine conchos, approximately 1 1/2" diameter, are fashioned from silver dollars, serrated edges still visible. Buckle is 1 3/8" by 2", overlay and stamped with a bear paw in the center. The leather is dark reddish brown (like mahogany), single stitched, 1 1/8" wide. (Buckle finding is 1 1/2".)
Item Number: 55865 ... List Price: $525.00 Your Price: $420.00

Circa 1970's Navajo Kokopelli Overlay Link Concho Belt Engraved Leon Damon (Navajo). Fifteen conchos and one buckle, each measuring 2" by 1 1/2" wide, and each one a different kokopelli scene, even different renditions of the kokopelli, like a rendering of kokopelli petroglyphs from across the centuries.
Item Number: 55339 ... List Price: $1,500.00 Your Price: $1,200.00