Free Shipping on all purchases! (USA Only)


2 Found. Showing page 1 of 1 pages.
Award winning Navajo artist Fritson Toledo created this sterling silver and natural turquoise necklace and earring set. The necklace is 19" in length and the matching post earrings are 2 1/2" in length by 7/8" at the widest point. The necklace and earring set feature 67.5cts of natural Fox turquoise from Nevada.
Item Number: 53428 ... Price: $1,195.00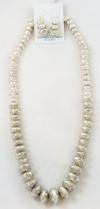 Navajo artist Angeline Miller created these stamped and graduated sterling silver beads (Navajo Pearls) and earrings set. The necklace is 23" in length and graduate in diameter from 3/8" up to 3/4". Each dangle earring is 1 3/4" in length (including the frenchwire) and is 1/2" in diameter at the widest point.
Item Number: 53177 ... Price: $325.00