Clearance Sale!!! 30% Off All Oaxacan Carvings, Zapotec Weavings and Mata Ortiz Pottery


2 Found. Showing page 1 of 1 pages.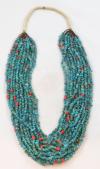 Santo Domingo Pueblo artist Jolene Mary Bird created this 15-stand stabilized small turquoise nugget with red coral interspersed necklace. The necklace is 32" in length and has the traditional wrap.
Item Number: 54088 ... Price: $895.00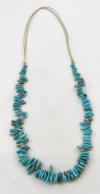 Nugget necklace by Unknown artist, Santo Domingo Pueblo. Graduated wafers of stabilized bisbee turquoise interspersed with spiny oyster, finished in adjustable wrap. This necklace has been worn and loved. Measures approximately 26".
Item Number: 53485 ... Price: $375.00