26 Found. Showing page 3 of 3 pages.

Circa 1990's Award winning Navajo artist Tommy Jackson created this sterling silver and natural turquoise cluster bolo. The bolo is 2 3/4" in height by 2 1/4" in width and features natural Bisbee turquoise from Arizona. The six-ply black bolo strap is 36" in length.
Item Number: 54337 ... Price: $1,500.00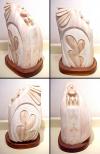 Award-winning Jemez Pueblo artist Victor Vigil created this alabaster "Prayer" sculpture. The sculpture is 17" in height by 8" wide by 9" in depth.
Item Number: 31783 ... Price: $1,395.00