Valentines Day Sale 20% Off. Free Priority Shipping (US Only)


2 Found. Showing page 1 of 1 pages.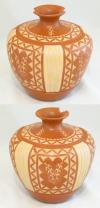 Alvina Yepa, award-winning potter of Jemez Pueblo created this stunning pot she calls "Kiva." The carved steps on the lip represent the two Pueblo kivas, the outer Pumpkin Kiva, and the inner Turquoise kiva. The four panels represent the prayers given to the four directions. Two panels each of rain and kiva and corn, symbolizing sacred rain and prayers bringing sustenance and profound purpose. The pot is approximately 9" tall and approximately 8 1/2" in diameter at the widest, tapering to a lip of 3".
Item Number: 54155 ... List Price: $1,500.00 Your Price: $1,200.00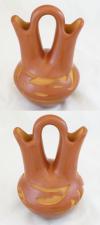 Santa Clara Pueblo potter April Naranjo created this red carved Avanyu design wedding vase. The wedding vase is 9" in height and 6" in diameter.
Item Number: 53328 ... List Price: $550.00 Your Price: $440.00