Clearance Sale!!! 30% Off All Oaxacan Carvings, Zapotec Weavings and Mata Ortiz Pottery


3 Found. Showing page 1 of 1 pages.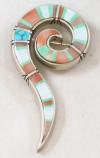 Unknown artist created this circa 1990's sterling silver and multi-color mosaic inlay pin. The pin is 2 1/4" in height by 1" at the widest point and features natural opal, pink coral, turquoise and gaspeite mosaic inlay.
Item Number: 53803 ... Price: $295.00

Unknown artist signed "Nieto" created this circa 1970's sterling silver and turquoise cluster pin. The pin is 2 1/4" in diameter and features natural Kingman turquoise from Arizona.
Item Number: 50990 ... Price: $295.00

Award winning Cochiti/Zuni Pueblo artist Christine Eustace created these sterling silver and 14kt gold granulated pin. The pin is 1 3/8 in diameter.
Item Number: 49799 ... Price: $395.00