Valentines Day Sale 20% Off. Free Priority Shipping (US Only)


3 Found. Showing page 1 of 1 pages.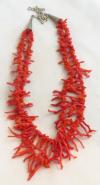 Ca 1970's Unknown Santo Domingo Pueblo 2-Strand Red Coral Branch Necklace. The coral is deep red and the strands are layered, creating a beautiful vision. The longest strand is approximately 21 1/2" long, the shorter one is approximately 20 1/2" long, plus 4 1/2" extender.
Item Number: DHF38 ... List Price: $90.00 Your Price: $72.00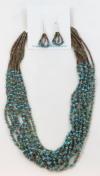 Santo Domingo Pueblo artist Josephine Coriz created this 10-strand small stabilized turquoise nuggets interspersed on hand-ground olive shell heishi. The necklace is 22 1/2" in length (not including a 2 3/4" extender) and has matching earrings.
Item Number: 54071 ... List Price: $295.00 Your Price: $236.00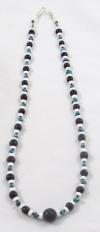 Award-winning artist Chris Nieto of Santo Domingo Pueblo created this hand-ground necklace. The necklace is 22" in length and features natural hand-ground jet, clamshell and stabilized turquoise.
Item Number: 52221 ... List Price: $100.00 Your Price: $80.00